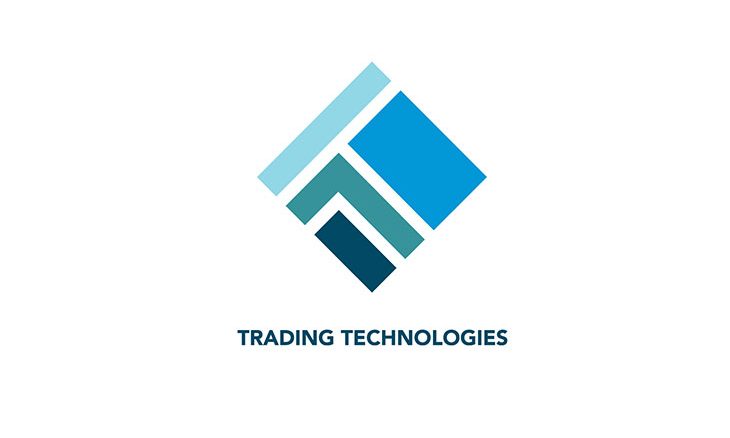 11 Sep

Trading Technologies Review
Trading Technologies – Our Verdict
Trading Technologies introduce themselves as being the fastest trading platform, designed to meet the needs of professional traders but open to retail traders as well. In addition to providing access to the world's major international exchanges and liquidity venues via its TT® trading platform, TT offers domain-specific technology for cryptocurrency trading and machine-learning tools for trade surveillance.
History of Trading Technologies
Founded in 1994, Trading Technologies is an independent software vendor with an extremely sophisticated infrastructure that facilitates fast algorithmic trading. HQ in Chicago, TT has almost 1000 employees on LinkedIn.
Trading Technologies has built up a reputation for being the fastest trading platform, in which they have the sophisticated and powerful infrastructure, yet is open to retail traders.
Who uses Trading Technologies? Predominantly Professionals, Automated Traders
Affiliations and Secondary Platforms
Trading Technologies has various partnerships, having teamed up with the likes of CN First, HDR Global Trading, CoinFLEX, TradeStation Group, GDAX, Interxion and many others.
TradeStation has a long list of distributors. Some include: ABN AMRO Clearing, ADM Investor Services, Advantage Futures, AMP Global Clearing, Aarna Capital, Bank of America Merrill Lynch + more.
1. Trading Technologies Review Summary
Trading Technologies is designed to meet professional traders' needs, yet it is also available to retail investors. The great user interface and incredible speed make this platform so attractive for professional trading. TT offers access to futures, options, cryptocurrencies, and more.
Trading Technologies is the fastest commercially available platform. The Colocated servers of TT mean that, whether you're building your algo or trading on your phone or desktop, you're accessing super low-latency trading potential. Although some users argue that Trading Technologies lack certain features, its simplicity and infrastructure is at least conducive towards a hyper-fast trading experience.
Trading Technologies is aimed at professional traders, so their pricing is a bit high, starting from $50 p/m with $1,000 CAP (transactional). As there is no fundamental data or news feed available and Trading Technologies lacks research capabilities, you might need to rely on the third party for any fundamental analysis.

Fastest Trading Platform for Retail Clients
Unlike other Trading Technologies reviewers, Quant Savvy tried nearly all principal brokers, so we are positioned perfectly to give you the best insights. You may also be interested to read Best Day Trading Platform Review, where we compared Interactive Brokers, TradeStation, eSignal, AmiBroker, and NinjaTrader. Quant Savvy has compiled a comprehensive list of features, user reviews rankings, and screenshots. We also provide sources for our information and useful links to help you conduct additional research.
Which broker has the highest fees? Who offers the highest quality data? Which platform is the best for day traders and beginners?
Mobile trading apps become increasingly popular among young people and inexperienced traders. But are they really trustworthy and able to generate profits?
We provide a breakdown for software comparison between NinjaTrader, TradeStation and MultiCharts which is intended to help you make the right choice.
Scanners, Screeners, Watch Lists, Software tools, Alerts
Trading Technologies has a great user interface in which many widgets are available.
The watchlist widget allows you to see the contract, pos, last, bid/ask, vol and many more data points.
The Strategy Creation widget allows the user to create a watchlist based on their strategy. It submits the strategy to the exchange and then it can be watched in your workspace.
Placing Live Trades and Trading Technology
Placing trades is intuitive and fast with Trading Technologies. Order parameters include Basis, Best Limit, Cross, Fill and Save, Iceberg, Limit, Market Limit, Stop Limit, OCO and many others.
Portfolio, Risk Management and Software Tools
There are many features that are conducive to risk management on Trading Technologies.
Firstly, users are able to combine order activity across all execution platforms. This means you can get the bigger picture using the order book for an overview of all positions and orders.
Prices can be configured so algos and traders do not submit undesirable orders. Other Trading Technologies features include pre-trade risk checks, order cross prevention, post-trade risk and portfolio analysis.
There's a risk matrix available that allows the user to assess multiple scenarios at the same time for changes to price and volatility.
When charting, historical prices are available from up to 10 years ago. However, there is no fundamental data available and Trading Technologies lacks research capabilities. There are many great streams of data, but they're mostly current data, such as anonymized order data in real-time. Trading Technologies doesn't have a news feed feature, so you're reliant on third parties for any fundamental analysis.
Backtesting was never available with Trading Technologies, until at the end of 2019 where a Beta version was announced. Now, the ADL developers out there can backtest their algos by executing multiple instances of the strategy with unique parameters, testing before and after changes and evaluating the execution behaviour of the Proof of Concept strategies. Users can also train and learn with no risk.
Autotrader allows the user to develop and execute strategies with an interface similar to Excel. There's some great features too, such as multiple levels of automation, Excel integration, built-in formula engine, strategy prices deriving from the market/theoretical values.
There's also an auto spreader which has multiple MD trader windows, allowing the user to auto trade calendar and inter-product spreads.
Trade Management and Historical Trades
Historical fills can be viewed quickly which allows users to track past performance. Users select a date range and all trades are displayed clearly.
The order toolbar is a means to manage current trades, in which you can cancel, inquire, pause (algo), cancel bids, and cancel offers. There's also a "?" feature where you can read the original order details.
Portfolio Testing and Trading
There aren't many features to perform portfolio testing on Trading Technologies, other than the ADL backtester which allows users to train, learn and execute algos to validate proof of concept.
The Colocated servers of TT mean that, whether you're building your algo or trading on your phone or desktop, you're accessing super low-latency trading potential.
The C++ programming language along with these Colocated executions mean that TT is arguably the fastest trading platform available to retail traders.
For all of Trading Technologies' lack of certain features, its simplicity and infrastructure is at least conducive towards a hyper-fast trading experience. However, if you are not a professional trader, then there are quite a few alternatives to choose from which we've discussed here. For instance, TradeStation can offer much better data stability and more features for lower prices.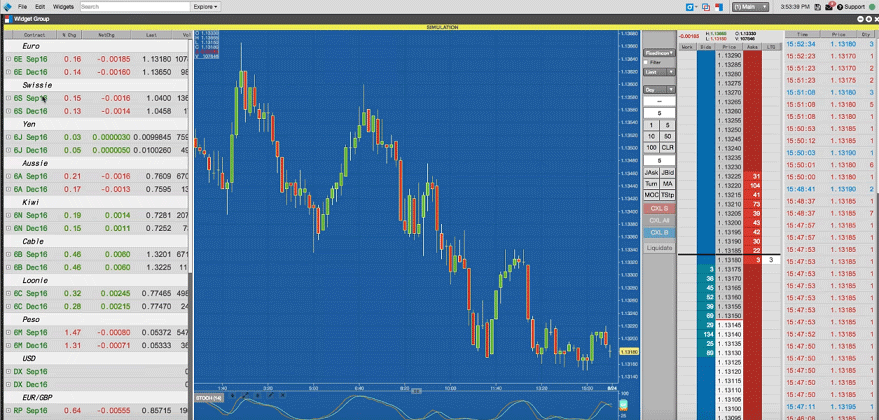 Trading Technology uses Linux C++ API within their secure development environment in which traders can build and test trading strategies.
Users can however avoid writing syntax by using the ADL, which is a drag and drop environment.
C++ is one of the most difficult programming languages due to it being an old language, with some flaws, as well as being stripped back. But this has its advantages, if you're a good programmer.
However, the ADL environment means you don't have to write any code yourself. Whilst the capacity and potential for TT's development environment is high, getting started is slow, as there's a slight learning curve. The drag and drop nature of the environment however is useful in saving time, and can become efficient once users get to grips with it.
Trading Technologies has a reasonably large back catalog of Youtube videos, most of which are educational. Videos are still being uploaded, around once a month, and generally, show how to manage and use the Trading Technologies trading platform. 
Whilst it takes a while to get used to ADL, it's an extremely visual way to build a trading algo. You can see the nodes, rules and flow of logic in one picture along with an error list, variables, breakpoints and so on.
There's also a useful dashboard in which the user can view all algos, their status, P/L and other data.
Speed and Performance Considerations
Trading Technologies uses C++ because it's perhaps the most efficient at processing lots of data, meaning it's great for high-frequency trading. The low-latency means speed is optimal.
Trading technologies is the fastest trading platform that's on the commercial market. Autospreader for example is extremely fast, and Trading Technologies in general is being leveraged by speed-sensitive traders.
Trading Technologies' X_Trader performs orders extremely quickly; perhaps outcompeting many other trading platforms on the market.
Testing with 5 users on the Trading Technologies Gateway 7.15, gateway message delivery is 150 microseconds for the first and 5th user.
It's not only the execution of trades that's fast either, but the search functionality and the autoroll feature too, which make using the platform a time-efficient experience.
Resilience and Limitations
Drag and drop methods are always going to have limitations because they're already pre-packaged. In this sense, they're less customizable than if you were to use coding syntax. We believe that for some users the lack of customization might be a major issue, so we would recommend choosing other trading platforms, such as Amibroker.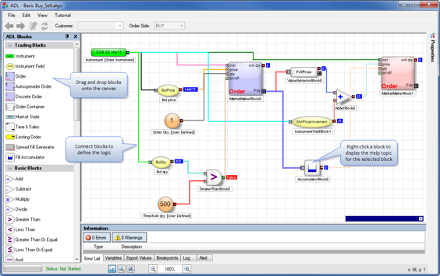 Apple Store Rating: 5  Android Rating: 4.2
*Apple Store has only 2 reviews
Mobile trading often raises concerns around speed, but Trading Technologies' colocated servers allow for low-latency trades wherever you are on mobile.
You can manage your algos using ADL, place and manage orders, view market data, use the auto spreader and benefit from collocated execution.
This means that chart trading is possible, as well as managing your trading algorithmic strategy. Furthermore, there's real-time data and a portfolio view.
Unable to save instruments (ES, ZN, CL) on the market list section. Once you log off and log back in all your instruments will be removed. It will revert back to the Default blank market list with the ``+`` symbol in the middle where your are instructed to add new instruments. The feature ultimately becomes useless.
I'd like to start this review by pointing out its a beautiful looking app. The platform overall is second to none for commodity traders. My biggest gripes with the Android and iOS versions... No alerts for when a price point is hit? I cant be logged into the desktop app and phone app simultaneously?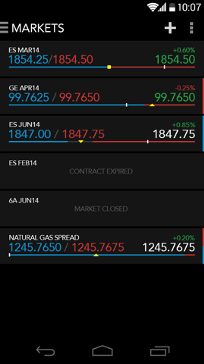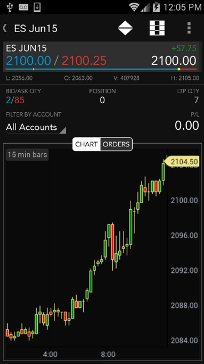 Stocks: B3, euronext, ICE_L (common stocks), ICE (7x) stocks
Futures: EEX, MX, CME, Eurex, ICE, OSE, NFX, JSE, ASX, B3, BIST, BitMEX, CFE, TOCOM, TFX, TFEX, SGX, and more
Options: SGX, OSE, NFX, NDAQ_EU, MX, MOEX, MEXDER, MEFF, LSE, JSE, IDEM, ASX, B3, BIST, CME, EUREX, and more
US Treasury bonds: KCG, FENICS, NFI, BrokerTec
Crypto: CoinFLEX, BITSO, Coinbase, DERIBIT
Trading Technologies provide DMA in one of four exchange-supported network configurations using the BVMF gateway. The four models of connection are explained here.
Trading Technologies offers two accounts: Standard and Pro
Standard is priced at $700 p/m (subscription) or $50 p/m with $1,000 CAP (transactional), and is aimed at professional traders. This plan includes most features, such as browser-based access, live trading, real-time market data and third-party algos.
Pro is priced at $1,400 p/m (subscription), or $400 p/m with $1,800 CAP (transactional), and is aimed at advanced trader who want more customization, powerful tools and APIs. This plan has access to the autospreader, autotrader, aggregator, ADL dashboard and TT .NET SDK.
Trading Technologies supplies market data for over 40 exchanges and execution venues. Users can connect FIX applications if they wish to use FIX market data.
Or, custom solutions are possible through developing API applications that can be normalized between exchanges. Trading Technologies does offer the potential to avoid market data subscriptions, but they can be easily integrated if the user wants to use a third party.
Opening an account is a fast process, and you can be up-and-running on the same day. There's a 30-day free trial, making the process very welcoming and accessible. However, many reviews on the Play Store (app) claim difficulties logging in and opening an account suggesting slow logins and bugs.
Tested today, the verification email did not arrive immediately.
Trading Technologies
Desktop Trading
Desktop trading with Trading Technologies can have huge customizability potential. Users can make use of up to 16 monitors in their market visualisation with the highly intuitive and powerful UI, that's designed with advanced traders in mind.
The desktop version is software, and thus doesn't use a web browser.
Trading Technologies uses a multi-processor design that creates a more optimal platform. Back-end Trading Technologies can be accessed on desktop where you can use very low latency execution of your algo trading strategy.
Trading Technologies Mobile Trading
The Trading Technologies mobile trading app has relatively positive reviews. Whilst this is a piece of software on your phone, the servers used by Trading Technologies are powerful enough to provide very fast trades no matter where you are.
Trading Technologies Web Trading
Web trading with browser-based access is available on both Trading technologies Standard and Pro. All you need is a mobile, laptop or tablet that will connect to the internet, and you can log-in.
Colocated execution means that you're using servers providing low-latency execution in order to trade fast.
Various chart types and a wide variety of technical indicators are available on the web version, as well as mobile.
Online, Telephone, Email and Account Services Support
Trading Technologies asks customers to open a ticket on the website if the issue is a non-emergency. Customer support will then reach out in their own time to resolve the issue.
If the issue is more urgent, there is a phone line for the US, Americas, Asia, Australia, Europe/Middle East and finally, Japan. Phone lines are staffed from 12pm Sunday to 5pm Friday (CT).
The website is written in English, but there is a Japanese translated site too.
Forum and Community Support
Trading Technologies have their own community section of the website. Within this there is a forum in which posts are regular. Most are regarding users' requests for advice in building their algorithms, or issues they come across. Most posts receive at least one reply, so this can certainly be a helpful resource.
Opening an account is supposed to be fast at Trading Technologies, but many users experience issues with verifying emails, logging in and general bugs in the process of opening an account.
Slow logins and once you switch out to another app. It does not maintain in the background, having to force close and reopen the app. Can you do something about it. Very challenging to use…
Very Impressed I was out and used this app to check on markets during the BREXIT fallout and the DOM's didn't skip a beat.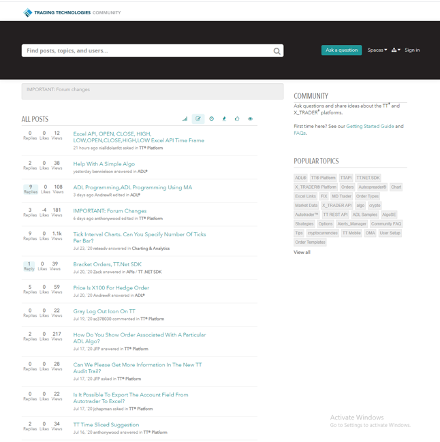 Trading Technologies uses Diffie-Hellman encryption for their network security. This means users passwords are automatically encrypted and secured when using the gateway.
The DH parameters file is a file that's encrypted, containing all common parameters used in calculating the secret keys.
Two Factor Authentication
Two factor authentication is possible with Trading Technologies, in which users must submit their SMS number correctly.
Which broker has the highest fees? Who offers the highest quality data? Which platform is the best for day traders and beginners?
Mobile trading apps become increasingly popular among young people and inexperienced traders. But are they really trustworthy and able to generate profits?
We provide a breakdown for software comparison between NinjaTrader, TradeStation and MultiCharts which is intended to help you make the right choice.