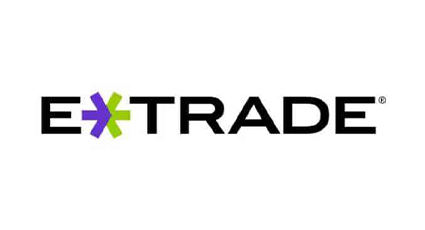 09 Nov

E*trade Review

E*trade is known for its excellent resources and usability. Like other large online brokers, E*trade has something to offer for all levels of investors.

E*trade is great for options analysis and trading and for mobile app users who want analytical power. Less active clients who prefer a more passive approach to investing might be better picking other trading platform.
options trading is made extremely accessible
impressive with its research and news capabilities
Intuitive and funcional mobile platform

History of E*trade
E*Trade is an electronic trading platform founded by William Porter and Bernard Newcomb in 1982. In 2018, the company had 4.9 million brokerage accounts, and a margin receivables balance of $9.56 billion. E*Trade acquired OptionsHouse in 2016.
E*Trade is headquartered in Arlington, Virginia, but has offices dotted around the United States.
Whilst the company has seen great success during its long trading history, it began it fall behind when competitors began offering zero commission stock trading. As this was becoming the norm, E*Trade decided to follow suit in 2019, and has since caught a second wind.
Who uses E*trade? Predominantly Mobile traders and Options traders
Affiliations and Secondary Platforms
E*trade, an online broker, offering three computer-based platforms and two full-featured mobile apps that will appeal to a range of investing styles and interests. For those who want to invest quickly, E*trade's Prebuilt Portfolios offer a fast track to the markets. You can choose from three different risk levels (conservative, moderate, aggressive) made up of ETFs ($2,500 minimum) or mutual funds ($500 minimum). There are no fees beyond the fund management costs.
The Power E*trade platforms, both desktop and mobile, bring clients robust options analysis and strategy development tools. That said, E*trade has continued to rank highly among the best online brokerages for beginners thanks to its excellent resources and usability.
It is worth noting that E*trade does not enable cryptocurrency trading but you can trade CME Bitcoin futures. If you are interested in trading cryptos though, we would recommend you to look for other trading platform. There is no international trading (outside of those available in ETFs and mutual funds) or currency trading. Other assets that can be traded online include U.S. Agency Bonds, initial public offerings, new issue program notes, secondary or follow-on offerings, and new issue preferred stocks.

Best Mobile Trading Platform

Best for Research and News feed
E*trade has achieved the above titles in Best Day Trading Platform Review, where we've compared Interactive Brokers, TradeStation, eSignal, AmiBroker, NinjaTrader, Trading Technologies and Tastyworks. Quant Savvy has compiled a comprehensive list of features, user reviews rankings, and screenshots. We also provide sources for our information and useful links to help you conduct additional research.
Which broker has the highest fees? Who offers the highest quality data? Which platform is the best for day traders and beginners?
We provide a breakdown for software comparison between NinjaTrader, TradeStation and MultiCharts which is intended to help you make the right choice.
Scanners, Screeners, Watch Lists, Software tools, Alerts
Power E*Trade provides a wider variety of features compared to standard, which includes price alerts and charting tools. Much of the scanners (i.e. Recognia scanner) allows users to set alerts when technical criteria is met.
Watchlists, as you would expect, are integrated into every E*Trade platform.
Flexible screeners for ETFs, stocks, mutual funds and fixed income are available. On standard E*Trade, the stock screener is customizable, with around 45 different criteria. On Power E*Trade, there is a LiveAction scanner with over 100 screens. These are real-time scans on the market with live metrics (volatility, Greeks, fundamentals and so on).
During Easter 2020, E*Trade added thematic investing screeners. Included in the 17 additions was Up and Comers, Playing Defense and Hedging With Gold.
The ETF screener has 16 strategies to get users started, and the Options screener on Power E*Trade's LIve Action tool is very powerful, being able to scan unusual options activity.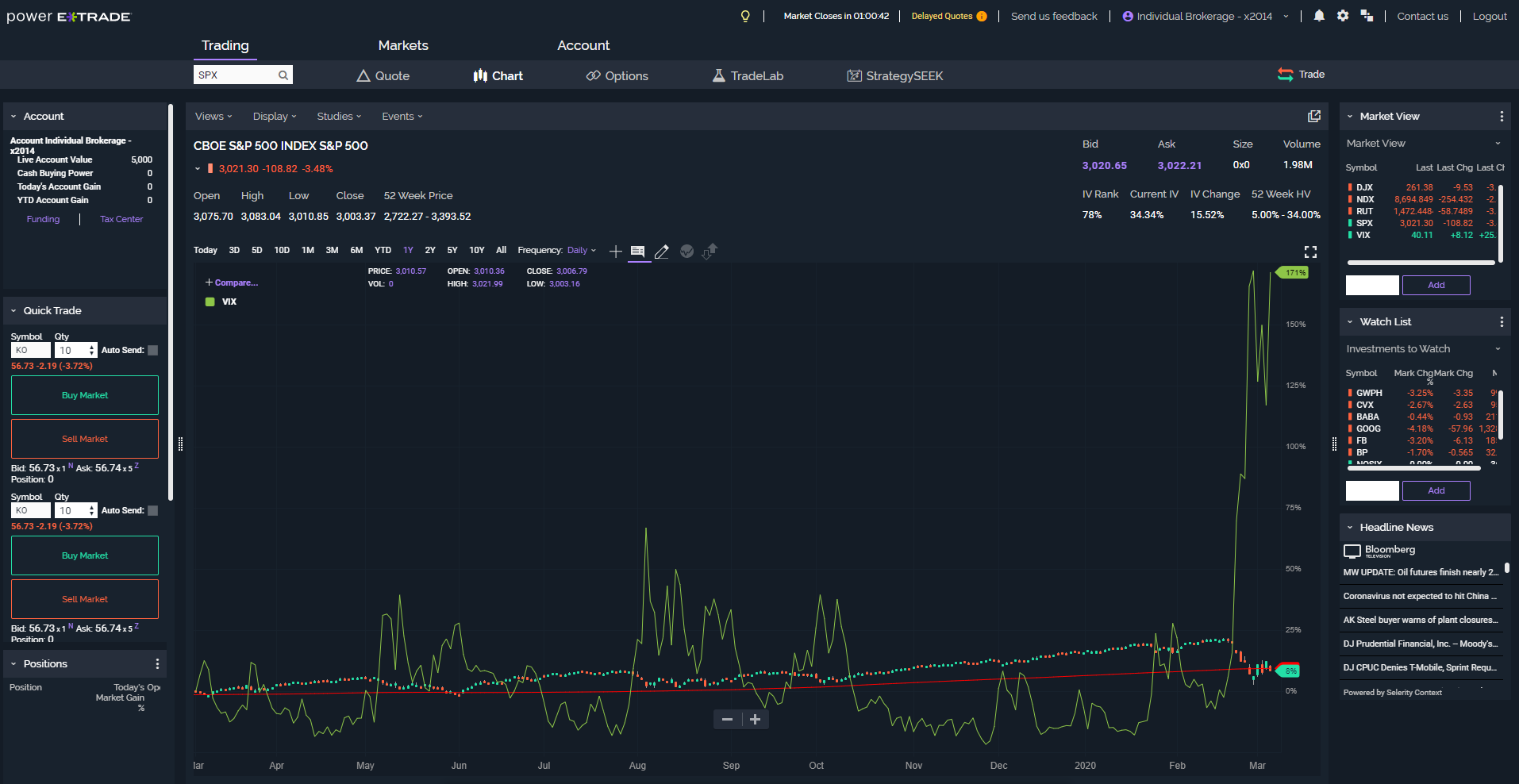 Placing Live Trades and Trading Technology
Placing an order is very straightforward with E*Trade, and includes a Trade Ticket which can be saved for later.
The options order ticket also allows users to simulate placing options orders which can then see how it affects their accounts, prior to the real execution of the trade.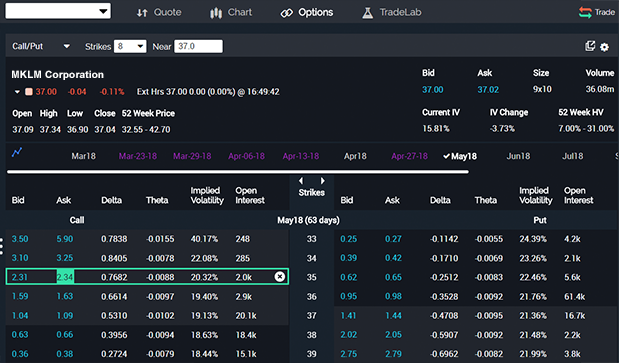 E*Trade is impressive with its research and news capabilities. Trading ideas are provided via 3rd party providers, such as MorningStar, MarketEdge and Thomas Reuters.
There's a good amount of fundamental data available, something which many trading platforms fail to provide. Financial statements are provided from the past 5 years, along with performance and rating metrics.
The news feed is also impressive, being provided by various 3rd parties. There's not only easily readable information, but visualised data too. Bloomberg TV is streamable from both desktop and mobile platforms.
Portfolio, Risk Management and Software Tools
Portfolio and fee reports are extremely clear with E*Trade. They can be customized up to 100 columns, such as dividend, Net Asset Value and so on.
Power E*Trade can be used to view your asset allocation and overall portfolio risk. If you have multiple accounts, they can be viewed as a grouped portfolio. The website platform provides an Estimate Income amount for future cash flow, which includes bond interest, dividends and so on. The biggest flaw here is that you can't consolidate external assets held with other institutions/platforms.
Core Portfolios
For an annual fee of 0.30%, E*Trades robo-advisor service will diversify and manage your portfolio. There's a minimum investment of $500 for this service.
Start Algorithmic Trading Today
Request pricing and more information about algorithmic trading. Our CEO will contact you personally.
Enquire Now
E*Trade is fantastic for beginner traders because of the tools available, along with UX/UI. In particular, options trading is made extremely accessible. For example, when using the Snapshot Analysis tool, the key events to keep an eye on are listed along the P&L chart, and the risk/reward is denoted in smiley faces – it doesn't get much more user friendly.
Futures trading is also great with E*Trade, particularly with the use of the Quick Trade widget, which triggers orders with ease, as well as having many futures ladders than can be run at once.
Charting:
Chart IQ powers the Power E*Trade platform, which is a 3rd party HTML 5 chart provider. Panning and zoom is liquid smooth, and there are 119 technical indicators, with 32 drawing tools. Recognia technical analysis is also integrated.
I'm very pleased with E*Trade. I've been with them since 1999. E*Trade has a lot of good tools for analyzing, and I like their excellent charts for account Performance & value to see how one has done. I'm a simple minded investor, so don't use all their fancy tools, but I strictly go for longer term value
I absolutely love this platform. It's much more in depth than many others I've used. The quotes are in real time and extremely accurate and trades are executed immediately. I love it.``
I used to be a big advocate of Etrade. They have a great interface (the site is easy to use), and it gives the individual investor access to a lot of tools. However, in the past year or so I have become aware that my trades are not routed to the most efficient exchanges, but are instead sold to HFT's so they can pinch a few pennies off of each trade in the dark pools. The net result is that individual investors (trade customers!) have ultimately been sold out.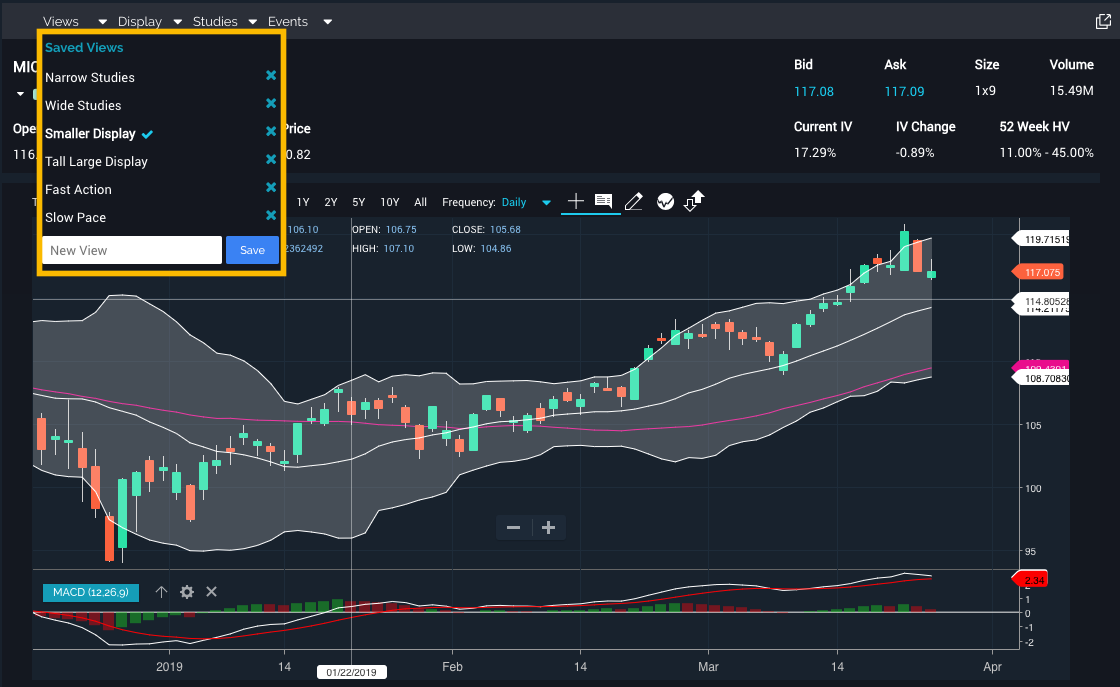 The Options Income Backtester is a backtesting tool that allows users to view historical returns for your income-focused Options trades. Power E*Trade users will benefit the most from backtesting, as the web standard platform is limited.
With the Core Portfolios (account type), diversified portfolios are selected by the Personalized Investment Strategy team – a feature that helps rebalance portfolios along the way as it sees necessary. This is an automated investing
Trade Management and Historical Trades
Trade Management: E*trade offers high quality and speed of  trading execution which is 0.12 seconds (S&P 500 performance) and 0.31 seconds (Non-S&P 500 performance). Effective/quoted spread is reposted to be 53.71% for S&P 500 performance and 60.84% for Non-S&P 500 performance.
E*Trade claims it balances speed with quality, and with seekout the most optimal execution available.
In July 2020, 96.01% of S&P 500 trades were at or better than the National Best Bid or Offer, with an 86.47% price improvement percentage. Execution speed was around 0.17 seconds.
Portfolio Testing and Trading
E*Trade has the ability to paper trade, meaning investors can practice their strategy without risking real money. The feature replicates the platform well, and is one of the most used simulated trading platforms in the world.
Backtesting is available, as mentioned elsewhere in this review, and the portfolio analysis feature is a visual way to represent your current holdings and their cumulative risk/performance.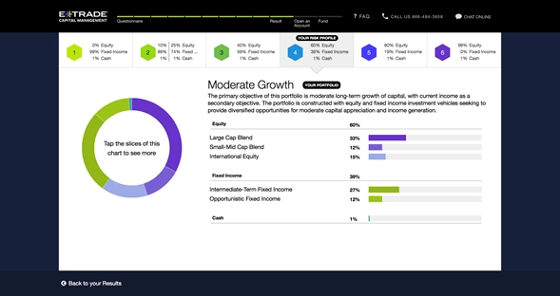 Programming Language: Python, Java and Node.js can be used when developing your own trading application, which can make use of the reliable E*Trade API.
Learning Curve: The web, mobile and desktop platform all have a shallow learning curve. With the benefit of an intuitive user interface, it's one of the easier platforms to learn. There's only an education environment and a tonne of support pages, but also a Youtube channel.
Example applications are provided on the developer side of the E*Trade website. These come with ReadMe files and .py files with some basics to help get started. There are also some "Getting Started" and Support pages on the website. Past this, users are on their own to develop a trading strategy.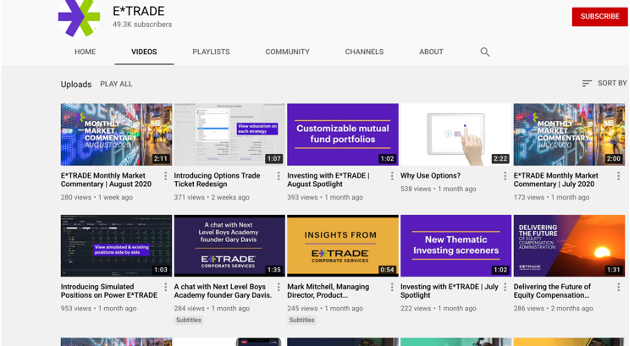 Videos: E*Trade has an official Youtube channel which uploads, to this day, several times per month. For example, a recent upload was explaining the new Options Trade Ticket Redesign, which helps keep users up-to-date with changes and how they operate.
Compatibility and Design:
Like with most platforms, E*Trade uses multiple programming languages to help optimize each facet of the business. For example, the customer facing tools are mostly using c/c++ and Java, which Python and Perl are used for backend.
Compatibility
E*Trade is impressively compatible for users. Being available on mobile, desktop and web browsers, there really are no users left out here. The web browser platform is still highly functional and powerful, and the mobile platform mirrors this very closely – there's not much functionality being left out of the mobile version.
Design
The E*Trade dashboard is well spaced out, and manages to host a lot of widgets and data without seeming overcrowded. Even when using a tablet, which is touch-orientated, the design holds up to be functional and intuitive. There's a light and dark theme for charting, and the indicators are easy to apply. Furthermore, the visualisation of the portfolio analysis is extremely impressive, and can make the data easily digestible for beginners.
Speed and Performance Considerations: The platform itself guarantees speed in how you navigate investments, view charts and manage trades. As for the order routing technology, it uses both sequencing and spray routing, with the majority of trades sent to market makers.
Resiliance and Limitations: One limitation is that, apart from zero commission online equity and ETFs, E*Trade is quite expensive. OTCBB trades have a $6.95 commission per trade for some customers, and expensive wire transfer.The other downfall of E*Trade is the lack of products and markets accessible. There's no Forex, CFD or cryptocurrency, and the equity markets are limited to the US only. Whilst they have a good bond selection, the funds, options and futures markets are smaller than most competitors
they say they offer an API and I was able to get a sandbox api key and get a skeleton application working and pulling data. Now their sandbox api is so limited you can't really test any real world application on it, because it only provides prices for a few stocks.
Apple Store Rating: 4.4 Android Rating: 3.6
Funtionality: Functionality is fairly impressive on the mobile platform, being both intuitive and powerful. News is accessible, with Bloomberg TV being streamable, as well as a daily webinar. Security is strong, with face or fingerprint recognition being available. Customer service can be accessed on the app via chat
Charting: The analytical power for a mobile app is impressive at E*Trade. On the mobile app, the E*Trader screener has 15 criteria. Charting is easy to use on mobile, with the user interface being intuitive and slick. The app mirrors the web platform fairly accurately, so there's little left to be desired.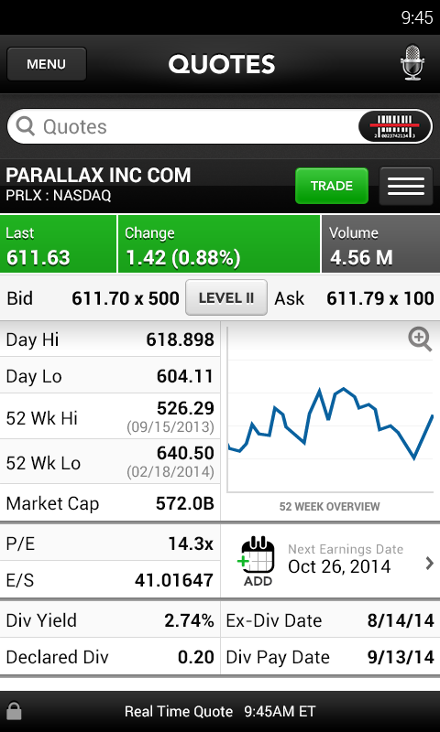 Love the app for growing my IRA, lots of references for new investors and most trades are FREE!!
Love this app! Makes trading so EASY!! Everything at your fingertips, gotta love it. Not a whole bunch of bells, whistles; everything an experienced (not professional!) trader would need.
This interface is in serious need of an upgrade. I've been using this for over 5 years and haven't seen any significant improvements to make the app more user friendly. Navigating the layout is frustrating when scrolling horizontally doesn't work. If not associated with my employer's stock plan I wouldn't even use this app.
Account types:
Individual
Joint accounts
Businesses accounts
Retirement accounts (IRAs)
Pension accounts
Education Savings Account
Custodial account
E*Trade personalized investments
Futures
Available for brokerage and IRA accounts, 24/6 access to market.
Available Futures are listed on ICE US, CME, and CFE – this is limiting compared to competitors.
Traders worldwide use futures to easily reduce risk or seek profits on changing markets. To maximize your profits, trust algorithmic trading systems that can trade multiple market strategies simultaneously without making any errors.
Options
Options trading is where E*Trade shines in terms of functionality. There are single leg and multi-leg options, although you can only trade on CBOE exchange – which is limiting.
Hedge Funds
You can find some of the largest fund providers, such as Vanguard.
Mutual Funds
Fund selection is decent, with 530 on offer.
Bonds
88,000 bonds are accessible, covering both government and corporate bonds.
Data Feeds Compatible
Over 8 providers at no extra cost.
Minimum account opening balance
$0
Time to open account
An online application must be filled out which takes around 10 minutes. From there, funding an account will take between one and ten business days depending on the payment method.
Desktop
Free if you make 30 or more trades per quarter and have a $250,000 portfolio balance. Otherwise, Pro will cost $99 per month
Stocks & ETFs
$0, apart from penny stocks which incur a per-trade commission
Stock Options
$0.65 50¢ with 30+ trades per quarter
Futures Options
$0.65 50¢ with 30+ trades per quarter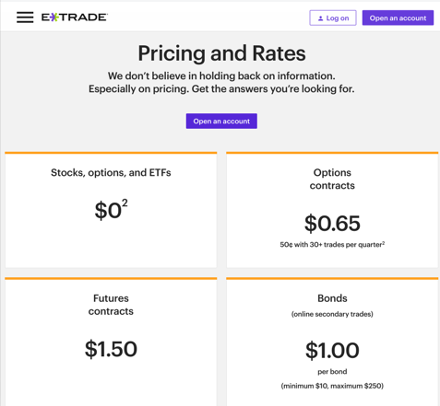 Online, Telephone, Email and Account Services Support
E*trader customer service is very poor: E*Trade offers phone support, Live Chat, and email. The majority of reviews on Trustpilot suggest that their customer service is very poor, they often don't answer the phone and you have to wait ages before you manage to reach them. However, live chat appears to be faster in offering support.
Forum and Community Support
Webinars with Q&A sessions, though infrequent. Previous webinars are stored and watchable.
There is no official community forum.
For US residents: The process of opening an account with E*Trade is fully digital and friendly for beginners, with no minimum deposit or deposit fee. Whilst it's user friendly and the online application is fast, the funding process can take several days.
For non-US residents: Non-US used to be able to open an account. Some are saying they've stopped it entirely, whilst others are saying it simply requires more documentation.
Deposits, Withdrawals Process
Deposits can be in the form of electronic money transfer (up to 3 business days), wire transfer (same-day), or cheque (up to 5 business days).
Deposits and withdrawals are free. However, wire transfer costs $25 and checks cost $10.
Dealing with Etrade customer service as been excruciatingly frustrating. I will transfer my account somewhere else as soon as I have some time and the pandemic is over. Don't open account with Etrade
God help you if you have to ever get somebody live on the phone! 45 minute wait times are not uncommon. I once had to wait 1.5hrs on hold. I only call maybe 1 time every other year but the frustration is enough to get me looking to dump these jokers
I find ETrade quite helpful as their customer service was very friendly and convenient. It increased my profit and gave me expect result.
Monitoring: E*Trade has not yet had any data breaches to date, which suggests their encryption and cyber security is at a good standard. E*Trade is regulated by SEC and FINRA, two top-tier regulators.
Two factor authentification: Mobile users can use biometric recognition, such as face or fingerprint, along with a normal password.
There's a Complete Protection Guarantee which covers fraudulent use of a users account, as well as providing extra security software on demand.
SIPC protection, which is in the event of the broker going bust, isn't necessarily for clients based in other countries. It covers up to $500,000, with a cash limit of $250,000.
Which broker has the highest fees? Who offers the highest quality data? Which platform is the best for day traders and beginners?
Mobile trading apps become increasingly popular among young people and inexperienced traders. But are they really trustworthy and able to generate profits?
We provide a breakdown for software comparison between NinjaTrader, TradeStation and MultiCharts which is intended to help you make the right choice.