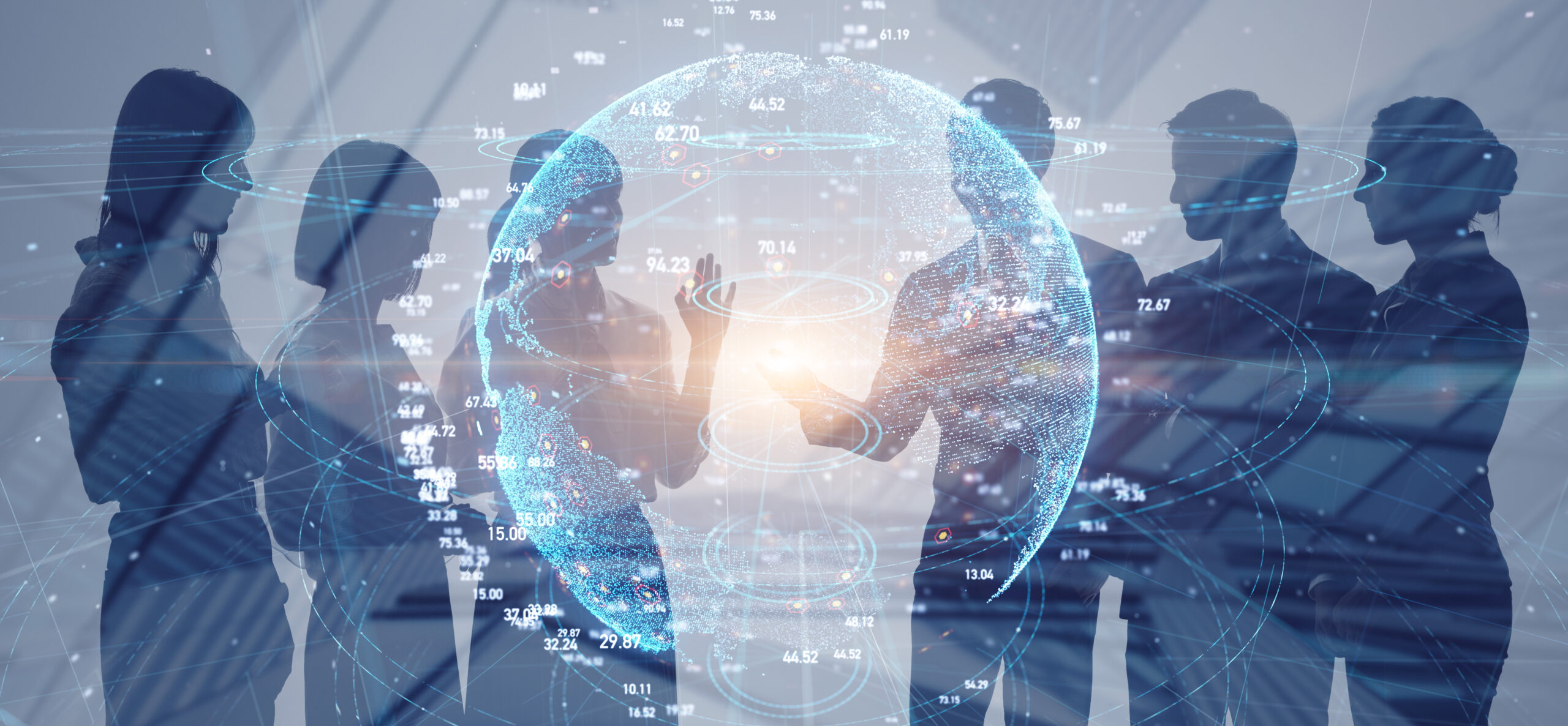 08 Sep

Best Quantitative Trading Firms
Renaissance Technologies vs Two Sigma vs D. E. Shaw
The hedge fund industry today stands at around $3.26 trillion, of which quantitative trading funds make up around half a trillion. Whilst the total HF returns are representative of the global market, there are a few managed funds that stand out and put the efficient market hypothesis to bed.
With investment services and managed funds, there is not a single best company that outperforms in every area. Instead, we're presented with a handful that are exceptionally consistent, yet each cater to different needs of the investor – hence why there is no monopoly in this market space.
This article will take a look at the three most successful quantitative trading firms: Renaissance Technologies – Medallion Funds and Institutional Equities Funds, Two Sigma and D.E. Shaw – Composite Fund. Before reviewing the three big hitters, here is an overview of them to give a brief context to their approach and trading performance.
wdt_ID
Contents
Renaissance Technologies (Medallion Fund)
Renaissance Technologies (Institutional Equities Fund)
Two Sigma (across various funds)
D. E. Shaw (Composite Fund)
1

Management Fee

5%
0.35%
2% - 4%
3%
2

Performance Fee

44%
10%
20% - 30%
30%
3

Net Returns (2018)

39.98%
8.5%

14% (Compass fund);

11% (Absolute Return Fund)

11.2%
Known as RenTec, Renaissance Technologies was founded in 1982 by Jim Simons. This is incredibly early on for a quantitative trading firm, which is a testament to the mathematical innovation of Jim Simons.
It was not until 1988 though that the Medallion Fund was born, which is their most profitable portfolio, and arguably the most profitable quantitative trading portfolio in history. The fund expanded on the mathematical models of Leonard Baum. The fund began to trade shorter-dated, systems driven decision making that was entirely automated.
Something you should know right away with Renaissance Technologies is that they operate on an invite-only basis. It is said that this mostly includes employees, of which there are around 300. Employees are mostly made up of Data Scientists and Mathematicians, and around 90 are reported to have PhDs.
The employees must be a closely-knit group because their trading strategy is the closest kept secret on Wall Street.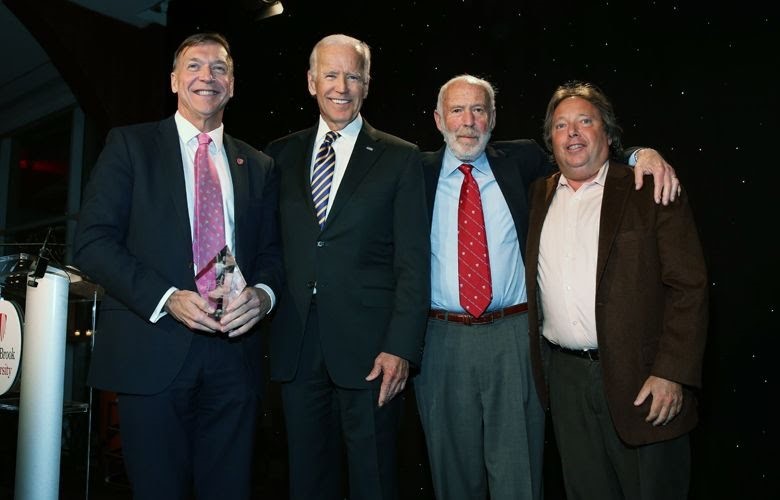 Pictured: Middle right – the founder of Renaissance Technologies Jim Simons
The Renaissance Technologies Medallion Fund has grown 24% year-to-date as of mid-April 2020, and somehow managed a 9.9% gain in March, the month where markets plunged their largest day point drop in history. The Medallion fund is the most impressive by far, with 66% gross annualized return from 1988 to 2018.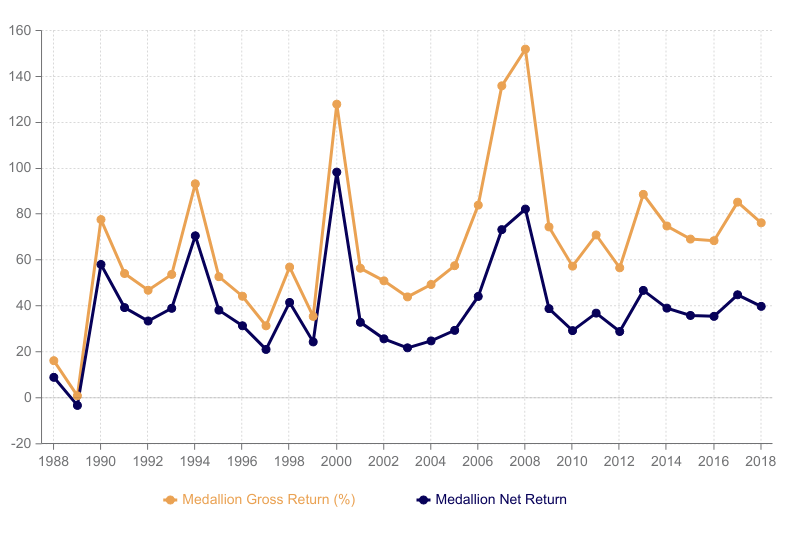 What's surprising then, is that the other funds in Renaissance Technologies' arsenal are not performing nearly as well. In fact, the difference is night and day. Renaissance Diversified Alpha for example, is down almost 20% for the year through to June and lost almost 9% in June's first week.
This sudden drop in Renaissance Technologies' performance is assumed to be related to the increased market volatility caused by the Coronavirus pandemic, as well as the influx of retail traders. Renaissance's funds that focus on equities have struggled, and whilst the firm refuses to detail the exact numbers, it's estimated to be one of the highest profile casualties in the hedge fund market. The disparity between the funds is likely because the Medallion fund has shorter holding periods, whilst the equities-focused ones have longer term aberrations, as well as owning smaller stocks.
Given it's a closely kept secret, we can't be too precise here. What we do know, is that the Medallion Fund has short-term holdings across global equities, commodities, currencies, and futures. It's also reported to have significant leverage and high turnover. Given that Medallion Fund is at the forefront of quantitative trading, they likely have an extremely long list of signals they use, many of which are perhaps abstract at first. For example, we know that weather used to be a signal for the Medallion Fund, as the researchers found a correlation between rising stocks and sunny days.
Renaissance Technologies doesn't just have a huge market presence in a nominal sense, but it does culturally. The Medallion Fund is seen as the gold standard when it comes to quantitative trading, due to their incredible track record. As of 2019, assets under management are $110bn, which makes it the second largest hedge fund firm in the world. In fact, Renaissance Technologies is so large that they've reportedly spent a lot of time understanding how their own trades are now a function of the market. That is, their own transactions are now a part of the patterns and behaviour in the market. This was supposedly a very difficult issue for them to get to grips with, too.
The Medallion Fund has some of the highest fees around. After the many consecutive years of success, in 2002 the company hiked fees up to 5% of assets and 44% of profits. Extraordinary high, certainly, but nonetheless justifiable given its impeccable performance over three decades.
Two Sigma was founded in 2001 by Mark Pickard, David Siegel, and John Overdeck. Siegal and Overdeck were the computer scientists, whilst Pickard was the expert trader.
Considering D.E Shaw and Renaissance Technologies were already successful in the quantitative trading space, Two Sigma garnered a lot of inspiration from them. Two Sigma tried to figure out not only some of their strategies, but how they were executing trades. This also meant that the foundation of the company was being built like a technology company as opposed to a finance firm. It was thus employing data scientists over MBAs, and focused on getting their infrastructure right from the very beginning.
The Two Sigma website sums this philosophy with the following, "we follow principles of technology and innovation as much as principles of investment management."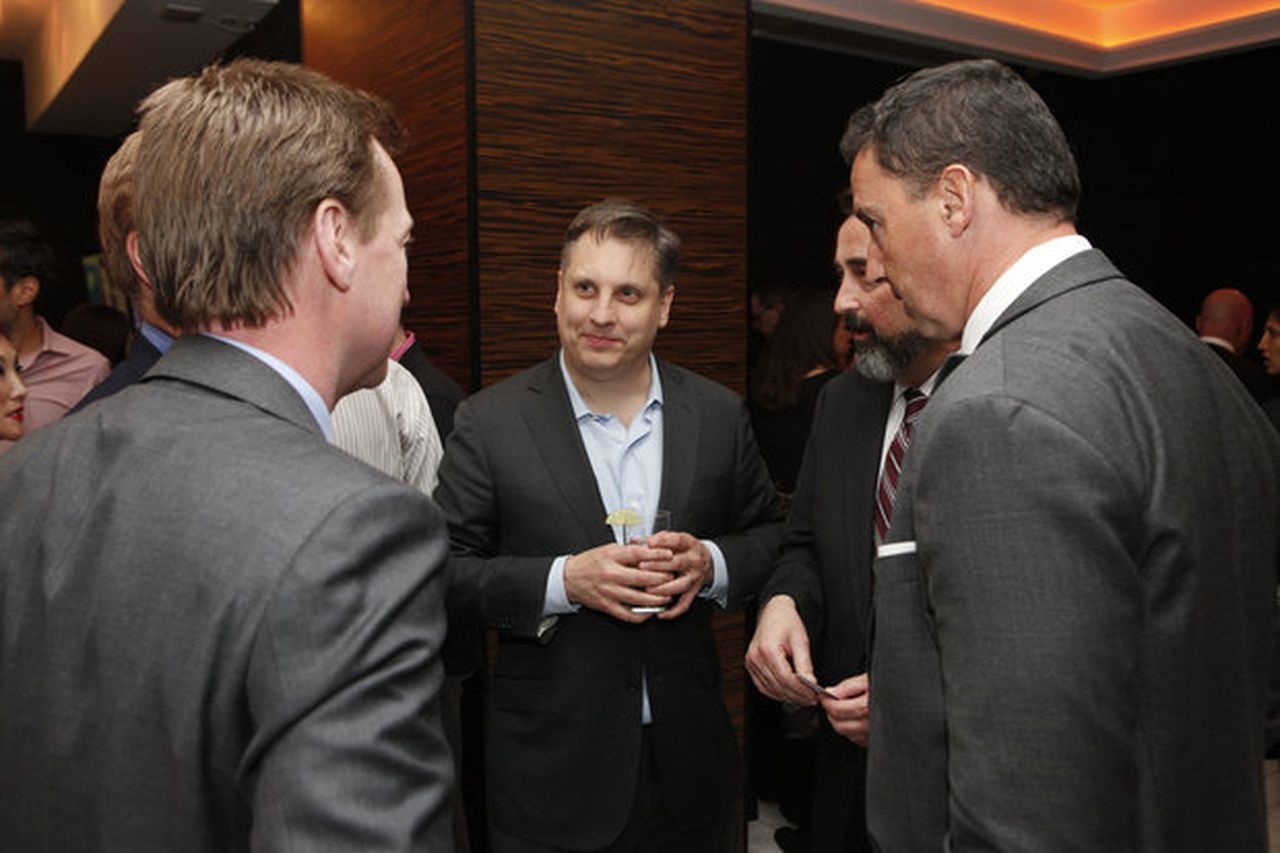 Pictured: John Overdeck (one of the founders of Two Sigma) with guests at the Code-to-Learn Foundation Benefit
Two Sigma has a large market presence, with over $60bn in assets under management and an employee workforce of over 1500. It grew rapidly in the past decade, as it was managing $8bn in 2011, $23bn in 2014, and $32bn in 2015.
Two Sigma have various funds with varying strategies. The Compass fund which manages $2.43bn, for example, trades futures across various markets from currency to commodities. Two Sigma's flagship fund, the Spectrum fund, is an equity portfolio with almost $9bn under management.
Two Sigma aren't an insular, secretive group like Renaissance Technologies. For example, Two Sigma have adopted crowdsourcing techniques in order to find trading signals. One way they did this was by holding KAggle competitions in 2017 to find talent that could code successful trading algorithms. They likely used this as an opportunity to seek out novel signals.
Two Sigma has received a lot of media attention due to its extraordinarily high rate of return. Particularly in 2014, when the net returns of their Enhanced Compass fund was 57.55%, and the Two Sigma Compass fund delivered a net return of 25.56%. Two years later, the Compass fund gained 10.35% and the Spectrum fund delivered a 3% return.
Whilst Two Sigma does vary its fees depending on the fund, they are proponents of the Two Twenty fee structure. That is, a 2% management fee and 20% performance fee. Whilst this is cheaper than the Medallion Fund as well as D.E. Shaw's Composite Fund, it's a far cry from low-cost investing.
David E. Shaw founded the multinational investment management company D.E. Shaw & Co in 1988. Shaw is now 69 years old, with a total net worth of $7.3bn. Quantitative trading may have the appearance of being a young man's game, but Shaw is considered the "King Quant" by Forbes after exploiting inefficiencies in the markets with high-speed computer networks. There are few other hedge fund managers that have a better experience than Shaw in building algorithmic trading models.
Interestingly, D.E. Shaw employed a young Jeff Bezos whilst he was working on his Amazon idea.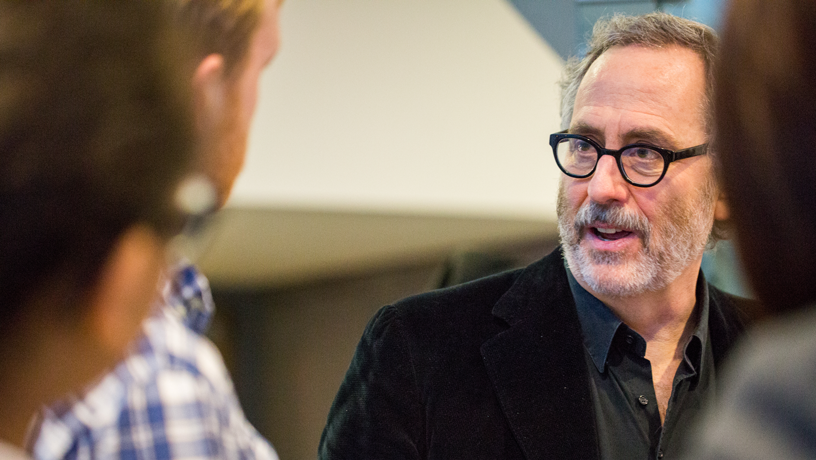 Pictured: David E. Shaw, the founder of D.E. Shaw & Co
D.E. Shaw has a large market presence, being ranked the 21st largest hedge fund in 2011 by Institutional Investor. In 2019, it's assets under management was $50bn, though this continues to rise in 2020.
D.E. Shaw is known for its complex quant trading. The company has expanded into non-systematic and traditional strategies, like distressed debt, though it still remains to be one of the leaders in the Quantitative trading industry.
Around Easter time in 2020, D.E. Shaw raised $2bn in commitments despite its door for new capital being closed for 7 years. The amount was capped, and as this was seen as the appropriate amount regarding the current turbulent market. More specifically, the new capital was for the D.E. Shaw Composite fund, a $13bn flagship, which took a hit during the March crash.
Institutional Investor, in 2018, reported that D.E. Shaw had delivered the 5th highest returns in the world among hedge funds since it was founded. As of 2019, it was the fourth highest grossing hedge fund company of all time, which had returned over $29bn to its investors since it was founded in 1988.
Since 2011 when it was created, the multi-strategy Composite Fund has had an annualized net return of 10.8%.
From 2003 to 2011, D.E. Shaw charged a 3% management fee and a 30% performance fee. They lowered this following after the 2008 crisis had calmed and competition had risen – it was reduced to 2.5% and 25% respectively. However, in 2019, D.E. Shaw decided to bring back the 3-and-30 pricing model. Despite going back to the more expensive fee structure, it still remains substantially cheaper than RenTech's Medallion fund.
Given that these three quantitative trading fund groups are some of the highest returning funds in the world, it's no surprise then that quantitative trading has become so popular in recent years. The flouted returns have even convinced traditional big-hitters like Barclays away from discretionary strategies, and instead opting for more algorithmic ones.
All three quantitative trading firms reviewed are exceptional, and are considered as some of the most successful and consistent investment companies out there. Whilst RenTech's Medallion fund is perhaps the most impressive, they fall flat with the other, equity-inclined funds. This, coupled with their exclusivity and secrecy, makes them an interesting topic of debate but not something accessible.
Many will argue that investing is all about cost-cutting and time in the market, as opposed to timing it. Well, all three hedge fund groups throw this idea out of the window with active strategies along with high fees. Whilst it's by no means cheap, Two Sigma is the cheapest of the three.
No fund is impenetrable, though, and all three quantitative trading firms saw setbacks during the March crash. This was described as a "quant quake", as the algorithms struggled to adapt to the glitchy Coronavirus markets. Quantitative Trading Funds rely on high-powered computers, vast data sets, and algorithms to systematically exploit patterns in securities prices. If you are not familiar with how quantitative trading works, feel free to read our algorithmic trading guide. Coming back to the quantitative trading firms and their performance during the COVID market crash, it's worth mentioning that the ferocity of the recent market turmoil has inflicted some painful losses, forcing many quants to ratchet back their positions. On the other hand, some quantitative trading firms were able to adjust to the fast-changing market conditions and profit from this market crash.
Credit Suisse estimates that quant funds as a whole have nearly halved the size of their positions since the beginning of the month and that the average quantitative trading fund has lost 14% this year. With that being said, even the flagship funds face times when risk becomes difficult to manage.
D.E. Shaw fared decently, being down only 2.6% on the Composite fund in March, compared to Two Sigma's Compass fund's -13% and RenTech's Diversified Global Equity Fund being down 15.8% for the year up to late March. The Medallion Fund, however, in its usual fashion, saw rampant returns of 9.9% during the month of March. This is good evidence that not only does the Medallion outperform in a bull market, but it can see abnormal gains during a crash. Renaissance's Institutional Diversified Global Equity fund, on the other hand, was down 15.8% for the year.
As quant trading firms become increasingly popular in the U.S., it is mandatory to understand which company best fits your needs and expectations. Advanced portfolio management, risk reduction, and convenience is just a few advantages of quant investing. However, you need to consider the downside of all mutual funds: high fees, tax inefficiency, and lack of control over your own finances. Of course, we can look at the amazing performance of the Mellion fund but how many average investors will be invited to join their private club?
Many investors, just like you, are looking for quantitative investment funds' alternatives that would offer lower fees and better performance. Quant Savvy is offering quantitative trading solutions for retail and professional investors since 2014. Our algorithmic trading systems offer potential to generate monthly income with low risk. During all 10 quarters when U.S equities experienced their largest decline, Quant Savvy posted outperformance 10 out of 10 periods. We aim to offer peace of mind and help you to secure your financial future. Contact us now to learn more.