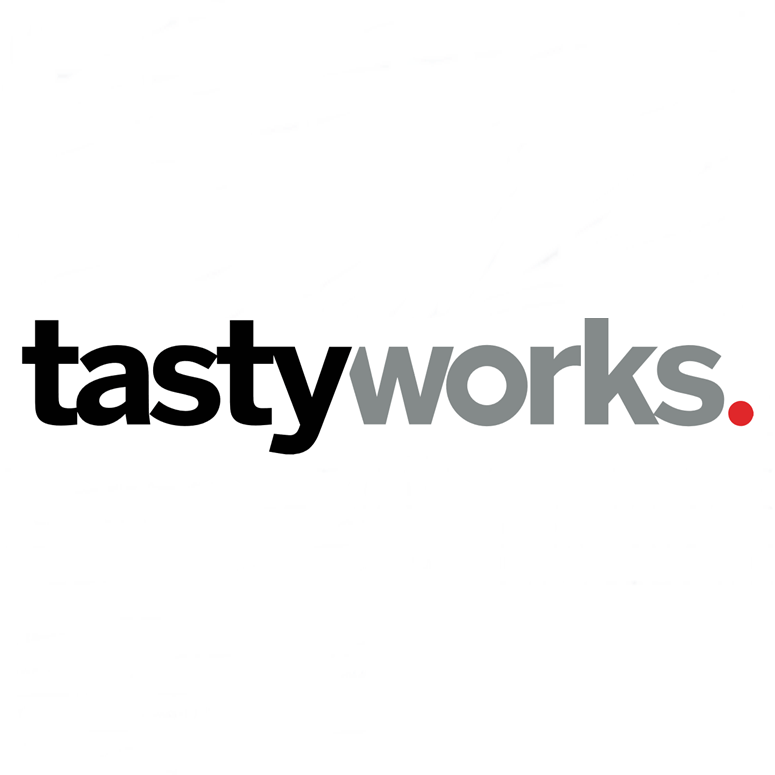 10 Sep

Tastyworks Review

Tastyworks is used by: Active Traders, particularly good for Options trading
Tastyworks Review Summary

Best for Options Trading
Tastyworks is designed for the active trader who is primarily interested in trading derivatives. With that being said, all Tastyworks trading platform features are designed to meet all options traders needs. With extremely fast and stable data feeds, you can trade stocks, options, futures, and futures options. However, if you are not an options trader, then this platform might not be for you, as features are very limited. Even though Tastyworks is a relatively new trading platform and releases updates quite frequently, we believe that it will not be suitable for advanced stock traders any time soon.
Tastyworks is a US broker, therefore its investor protection scheme is excellent. For active traders, Tastyworks offer very low commissions and trading costs relative to other brokers. Deposit and withdrawal processes could be better, and a demo account would also be great for practice purposes. There is no minimum deposit, no inactivity fee, or monthly fee, and the account opening process is seamless.
Although Tastyworks can be intimidating for beginners, the trading platform has great educational and research tools for learning. This trading platform is constantly updating and improving by adding new features, which we will discuss in this Tastyworks review.
Unlike other Tastywroks reviewers, Quant Savvy tried nearly all principal brokers, so we are positioned perfectly to give you the best insights. You may also be interested to read Best Day Trading Platform Review, where we compared Interactive Brokers, TradeStation, eSignal, AmiBroker, and NinjaTrader. Quant Savvy has compiled a comprehensive list of features, user reviews rankings, and screenshots. We also provide sources for our information and useful links to help you conduct additional research.
Tastyworks is a new and upcoming brokerage for active traders. Founded in 2017, Tastyworks has quickly garnered the attention that accommodates the recent rise in demand for Options trading.
Tastyworks was founded in Chicago, where its headquarters are. Founder Tom Sosnoff was also behind thinkorswim, a successful trading platform aimed at both beginners and advanced traders.
Tastyworks does offer stocks, futures and ETFs, but it predominantly focuses on Options trading. In this Tastywork review we will discuss trading platform's tools, charting, indicators, as well as it's costs and limitations. We have also prepared 'Best Day Trading Platform' review, where we've compared different trading platforms to help you make the right decision.
Affiliations and Secondary Platforms
As mentioned above, Tom Sosnoff (the Founder of Tastyworks) was the man behind Thinkorswim, a well-known trading platform that still operates.
Tastytrade is also under a sister's name because it's a part of the tastyworks company, which is where the educational content resides.
Scanners, Screeners, Watch Lists, Software tools, Alerts
Tastyworks doesn't perform too great when it comes to scanners and watch lists. There's no backtesting capability for example, though the watchlist that does exist has intuitive filters and is easy to view (as well as being consistent across all platforms).
There's an interesting "watch list" of sorts regarding the social feed. You can follow other traders and duplicate their trades as well as watchlists of recommendations. There's a greater filter where you can view the top 10 most frequently traded in the previous hour by Tastywork traders. This feature is very similar to what eToro trading app is offering, which we've discussed in 'Best Trading App' review.
Placing Live Trades and Trading Technology
In this Tastyworks review we've alluded to the fact you may need to research your trades elsewhere, but executing the trades themselves on Tastyworks is fast and functional. You will want to use the desktop version though if fast data streams are important to your strategy.
You can't send stage orders or multiple orders for later entry, but you can display open positions in charts and adjust them. Very recently, the functionality of trading from a chart has been improved with the Chart Grid feature.
There are a number of trading strategies and order types, such as straddle, iron condor, strangle, limit, stop market, stop limit, GTD, GTC and more.
Portfolio, Risk Management and Software Tools
Tastyworks has a feed of other traders in which you can view their trades to gain inspiration and insight.
The software however lacks features and tools for portfolio and risk management. There are only a few basic pages to check the portfolio, social feed, or simply start trading – it's quite barebones.
This means that there's not a lot of room for portfolio management on the software itself. You can see at the top of the platform your portfolio statistics, however, which include: theta, delta, profit, liquidity and buying power. Any further analysis and you can log on to Quite Foundation. There's no tax information or internal rate of return.
Tastyworks is very limited when it comes to fundamental data, which is essentially non-existent on the platform. This means research and data is limited only to technical stuff.
However, there is a fantastic educational platform packed full of content and even live trading streams. Here, you can not only learn strategies but also hear some relevant news.
There is also streaming of news from Acquire media on the quote sidebar.
There are also dates of upcoming earnings reports for different companies, which is very helpful.
Experienced traders will find the user interface a pleasure to work with. Charting and the general experience of the software (and web and mobile app) is intuitive and very smooth.
Charting indicators include Average Directional Index, Bollinger bands, Moving average convergence divergence and relative strength index. There's a chart drawing tool to add drawings such as trend lines.
Bare in mind, this is directed towards options trading. You can make quick informed decisions when options trading because this is who it's for. There's a tonne of great options charting features, with an analysis page that displays charting on positions. You can assess the risk profiles of multiple open positions, and thus see how adjusting one position will affect it. ChartGrid has recently been added on the desktop application, which allows the user to load 10 underlyings on a given page.
When equities trading however, things aren't quite so smooth. All that exists is prices and input orders, meaning there's very limited apparatus to perform advanced analysis.
They have Good research tools but No demo account with Deposit and withdrawal options limited.if you've invested already but no withdrawal granted, its not a problem.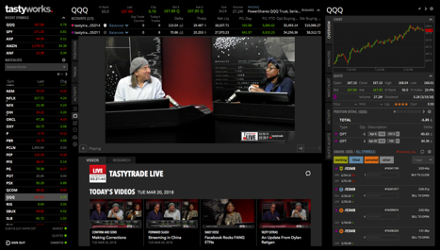 You cannot perform backtesting on Tastyworks. If you are looking for a trading platform with well-designed backtesting, nothing can beat Amibroker. AmiBroker claims they are the world's fastest portfolio backtesting and optimization. Quant Savvy ran some basic optimizations across all platforms and can confirm that AmiBroker was the fastest. 
You cannot perform live algorithmic trading on Tastyworks, other than automated executions such as basic order inputs.
Trade Management and Historical Trades
The activity tab allows you to see open positions very clearly, which exists both on desktop and the mobile app. You can apply filters here, and also view historical trades.
Fortunately, the watchlists are the same across all of Tastyworks platforms. The tab is always on the left, and then you can view options chains and access tools for analysis, strategy, and charting.
The portfolio report is great, albeit options focused. It shows the theta and delta values, though these columns can be customized. The portfolio and fee report can both be exported to CSV, and are very easy to digest and manage.
Portfolio Testing and Trading
Portfolio testing actually requires a separate website. You can view profit and loss using the dedicated software, but you have to log on to The Quiet Foundation if you want to perform any further portfolio analysis. Whilst this is a bit inefficient, The Quiet Foundation is still part of the same company group.
In so far as account performance and general portfolio analysis, Tastyworks is very limited.
Tastyworks is renowned for fast and reliable data feeds. The information you receive, as well as the trades you make, are performed to a high standard of speed.
If speed is important to the user, then the desktop version should be preferred over the web and app platform, because it will stream data much faster.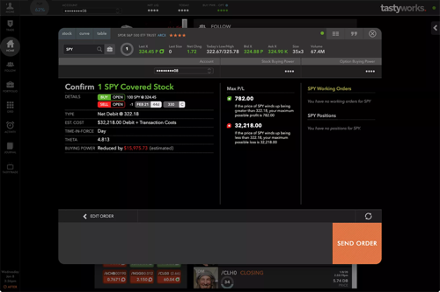 There's no demo account for traders to practice their strategy on, which is a significant limitation, making it slower learning curve.
If you're new to trading options, then the user interface looks very overwhelming and busy, making it difficult to comprehend. Furthermore, there is no built-in guidance when using the software.There's no popup boxes that helps guide new users through the user interface. There may be external video content, but it's not built-in meaning the UI takes longer to get to grips with.
Much of the Tastyworks learning content comes from Tastytrade website and not Tastyworks Youtube. However, this is streamed onto the Youtube channel, as well as an abundance of other content specifically for the channel.
There are uploads at least 5 times a week, and the channel has almost 200k subscribers, which is a good indication that there's some quality content.
Tastyworks falls behind its competitors when it comes to APIs and compatibility. As it's not open-sourced and has no programmable environment, you're left with only the software they provide.
The design of the desktop software is fantastic but limiting. It's almost entirely directed towards options trading, leaving equities behind. The design is difficult to get used to for beginners, but if you're serious about option trading, it can be extremely economical and smooth to use.
The desktop dashboard is nicely compartmentalized, and it's easy to set up price alerts. The mobile app may have terrible customization surrounding the design, but the desktop version does allow you to change font sizes, colors, and chart settings.
Speed and Performance Considerations
Tastyworks is built for speed, and is a 2017 company, it's built on modern infrastructure.
Even the search function, which isn't great, still performs extremely quickly. It's not just transactions that are executed quickly, but opening an account and customer service is also very speedy.
Resilience and Limitations
As mentioned in Compatibility and Design, Tastyworks is designed for Options traders. This leaves equity traders and beginners in the dark, as there are limited functionality and limited built-in guidance.
There's also limited customization for charts, which may put off some advanced traders. The workspace is also limited in customization.
The search function can also be slightly confusing in its results. Non-US stocks also appear, despite not being able to trade or view the price information.
Love the app and service so far it was little confusing at first but turn out very easy and super fast execution, after watching many tasty trade show and when I open the account and deposit money the prompt asking would you like us to front you the money before your deposit settle so you can start
I opened an account with Tastyworks after switching from thinkorswim (which wouldn't allow me to trade spreads). For options trading and building spreads, the desktop app is fantastic.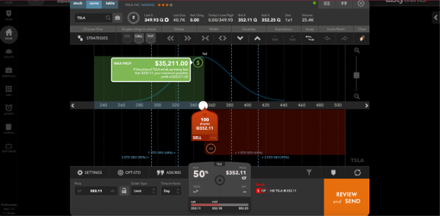 Apple Store Rating: 2.9 Android Rating: 2.4
The mobile app is pretty functional and doesn't contain many bugs, although the user experience isn't great. For example, the  font cannot be resized, the app is locked in portrait, and becomes quite hard to navigate when you have multiple spread positions.
Functionality isn't quite as good as desktop, as it lacks the news feed and charting functionalities (i.e. ChartGrid) that desktop has. Overall though, you can perform fast trades with real-time data, as well as view the social feed and current positions. Executing trades is very clean and simple too.
Updates since my original review have VASTLY improved the app. There's still the minor hiccup here and there (daily P/L on closed positions not always accurate... reverts to zero until you reload the app), but overall it's become very useful and effective.
I like the app and find it useful to place and monitor trades. The charts are so basic that that they are useless in my opinion. Add better charts and get the missing star. It would also be nice to see the expected move on the option chain. However he app is much better than in the past.
Tastyworks doesn't have Direct Market Access.
Individual
This standard account is the most popular. You can select either a Cash or Margin account.
Margin accounts is a brokerage account where the broker lends the user money to purchase financial products.
Cash accounts mean the trader must cover the full price of the trades.
Join
The standard join account for two people can also be a cash or margin account. There's two types of joint account: Tenants in Common (TIC) and With Rights of Survivorship (WROS).
Retirement
There are three types of retirement accounts: Traditional IRA, Roth IRA, and SEP IRA. each have different implications and eligibility surrounding tax and employment.
Corporate
LLC, partnership, S Corp and C Corp accounts are all available. This is for US established companies only.
Trust
It's possible to open an account on behalf of an irrevocable trust or revocable trust, and a copy of the Trust Certificate is required upon opening.
International
Cash and margin accounts are available to international customers. The long list of available countries can be found here.
Tastyworks uses dxFeed for their market data, which doesn't have any delay. Tastyworks is a closed source software that has very few supported APIs. This is a big drawback of Tastyworks, as you have less choice regarding data feeds.
Minimums account opening balance
$0 for cash accounts, $2,000 for margin accounts.
Time to open account
A 10 minute application and a waiting time of up to 3 days.
Inactivity fee
No inactivity fees, meaning you're not forced to use your account to avoid being charged.
Withdrawal Fee
$25 for US traders and $45 for non-US users.
Stock Options
Opening commission: $1.00 per contract ($10 max per leg) Closing commission: $0
Futures
Opening commission: $1.25 per contract; Closing commission: $1.25 per contract
Futures Micro E-mini
Opening commission: $0.85 per contract; Closing commission: $0.85 per contract
Futures Options
Opening commission: $2.50 per contract; Closing commission: $0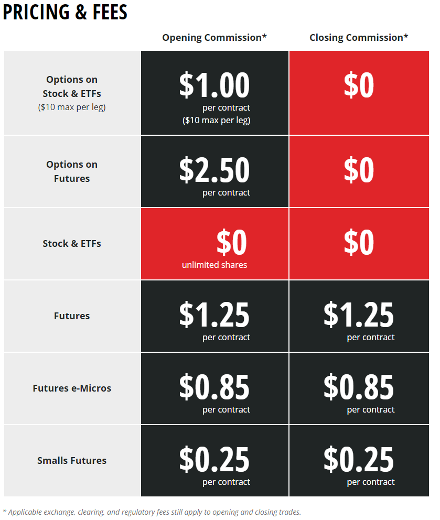 Online, Telephone, Email and Account Services Support
Customer services are available over the phone, live-chat or by email. There are also different email addresses regarding different issues/needs of the customer.
Generally, Tastyworks reviews indicate that customer service is adequate and usually quite fast.
The Tastyworks help and support page on the website is quite strong. It's divided into different topics, in which you can view solutions to common problems. If you can't see it there, you can press "get help" and opt for the fast live chat option.
Forum and Community Support
Tastyworks doesn't have a designated forum of its own, meaning that community support is difficult to find. There are other trading forums in which Tastyworks is discussed, but given its relatively new and not yet a market leader, community support isn't in abundance.
Traders from the US, EU as well as many other countries can open an account with Tastyworks.
The process is fully digital and is one of the fastest on the market. It takes only a few minutes to complete, and a couple of days to wait.
Deposits, Withdrawals Process
Depositing is free of charge, and can be completed via ACH, Check or wire for US citizens. For non-US citizens, you can only use wire (bank) transfer. This takes around 3 to 4 working days.
Withdrawals cost $25 for US traders and $45 for non-US users. The methods are the same as the deposits, as are the process times.
Love the app and service so far it was little confusing at first but turn out very easy and super fast execution, after watching many tasty trade show and when I open the account and deposit money the prompt asking would you like us to front you the money before your deposit settle so you can start
No other brokerage in the world provides better service or rates than tastyworks.
Unable to access my account after the first day. I wrote to customer service and I'm waiting to hear back.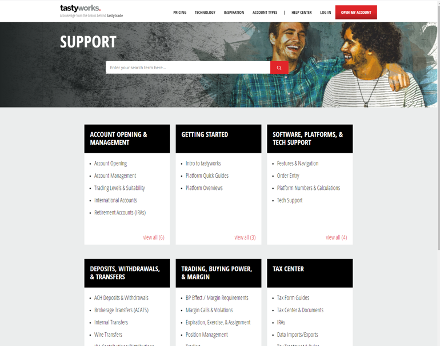 Tastyworks claim to encrypt as much data and interactions as possible. In regards to monitoring accounts, they're in line with rigorous regulation to ensure they're protected from cyber hacks as well as fraudulent activity.
Tastyworks is regulated by top-tier US regulator FINRA, as well as SEC and National Futures Association.
This means there is a high level of trader protection. All clients are protected up to $500,000 (cash limit of $250,000) by the SIPC protection fund. This is a lot higher than most European protection schemes.
It doesn't have negative balance protection, however, and it's not publicly listed on the stock exchange.
Two Factor Authentication
There is an option for 2-factor authentication on both the web version and mobile application.
The mobile app has a biometric option in which you can use a fingerprint to gain access to your app account.
Which broker has the highest fees? Who offers the highest quality data? Which platform is the best for day traders and beginners?
Mobile trading apps become increasingly popular among young people and inexperienced traders. But are they really trustworthy and able to generate profits?
We provide a breakdown for software comparison between NinjaTrader, TradeStation and MultiCharts which is intended to help you make the right choice.